Hardscape and Landscape Services Albany NY
Residential Hardscape Solutions
---
We our proud to provide a full suite of professional hardscape solutions to the residents of Albany & the Greater Capital Region.
Let's get started on your outdoor living project today!
Residential Hardscape Solutions Albany NY
---
Our team of experts specializes in concrete landscape design and installation. We are able to design a layout that will be functional, beautiful and well-built, to withstand the harsh weather we experience here Upstate New York. Our goal as your Albany concrete contractor is to always set clear expectations and understand your goals and what you seek to accomplish with your project. Whether you are thinking about new hardscapes, stamped concrete for your back porch or sidewalks, maybe even a retaining along the driveway or in the backyard, we are capable of taking on any project you can think up.
We really love building beautiful, aesthetically-pleasing hardscapes and eye-catching stamped concrete designs. We know our work is the ability of increasing the resale value of your home and we want to do everything we can to ensure it looks great.
Learn more about our concrete services below.
Hardscapes and Brick Pavers
Most people might be unfamiliar with the term "hardscapes." We don't focus on the greenery, or softscapes," in your yard. Rather, our focus is always on the inanimate side to landscaping. We focus on masonry and concrete work. More specifically, hardscapes are stone, brick and concrete in nature.
Capital Land Companies can build an outdoor living space that turns your yard into a backyard oasis. We can do the same with the front yard. Hardscapes will make your walkways looking sleek and smooth directing traffic to your front door. They are also very low maintenance. Brick pavers, sleeper walls, driveways, concrete stairs and more!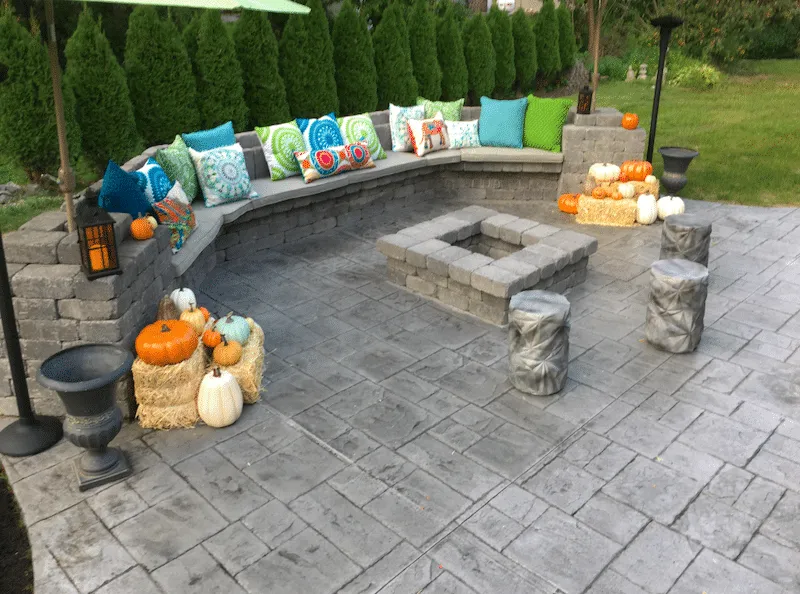 Retaining Walls
Retaining walls are outstanding at preventing soil erosion and double as a way to add a professional look around your driveway, along your backyard perimeter or around the pool. They reduce yard maintenance and are easy to keep clean.
They are known for increasing the depth of your outdoor living areas and can make your yard look quite larger than it actually is.
Retaining walls may look like stacked concrete, stone or brick but are strategically designed and engineered to provide strength and durability to your yard. They will add curb appeal and increase the value of your home.
Stamped Concrete
You might be Googling the word "concrete" and your immediate search results show you pictures of dull, grey concrete slabs or structures. Concrete can be dressed up & enhanced with techniques that are known as stamped concrete applications.
Concrete can be shaped and colored in many different ways, making it extremely versatile. You can have blue slate, reddish-brick or even go with a really cool look with wood planks. My favorite!
It is super durable and adding stamped concrete designs to your home will make your outdoor space beautiful as well as increasing the resale value to boot!
Walk Ways
A well-built and designed walkway is not just a matter of digging out an area and dumping concrete. No way! There is a ton of designing & planning that goes into doing a walk way properly.
Depending on the type of concrete that is used will determine if water will run towards your home in a rainstorm or if the water will puddle. Also, the gravel foundation laid as well as the form boards will determine if your sidewalk remains solid and does't shift or crack over time. Hiring a professional concrete contractor is vitally important to get this right the first time.
They say if you're the Jack of all Trades, you're the master of none. We beg to differ. When it comes to property upkeep and redesign, we are defined as the "Master of all Trades".Ready to get started on your project? Contact us or Request a Quote.
Our Capital Region Hardscape Projects
---
HERE'S A PEEK AT OUR PAST PROJECTS!